Free Science, Social Studies and Health lessons developed by teachers to inspire digital-age students in support of UNICEF Canada!
New COVID-19 lessons added, including what students should know, how to stay healthy, and how to avoid misinformation.
Curated lessons with interactive quizzes that mirror your province's science, health and social studies curriculum – all for free. For every quiz that students complete, we'll donate a vaccine to someone in need! Here's how it works.

All-time Leading Schools
School
Questions Answered
Vaccines
Students
Templeton Secondary
Vancouver, BC
149,286
14,002
666
Senator Reid Elementary
Surrey, BC
168,997
11,801
468
J N Burnett Secondary
Richmond, BC
106,372
9,876
326
Green Timbers Elementary
Surrey, BC
68,240
6,147
166
Hugh John Macdonald School
Winnipeg, MB
80,498
5,804
217

421,604 questions answered and 36,530 vaccines earned in support of UNICEF this school year.
3,200,981
questions have been answered and
233,425
vaccines have been earned for children in support of UNICEF since March 2018.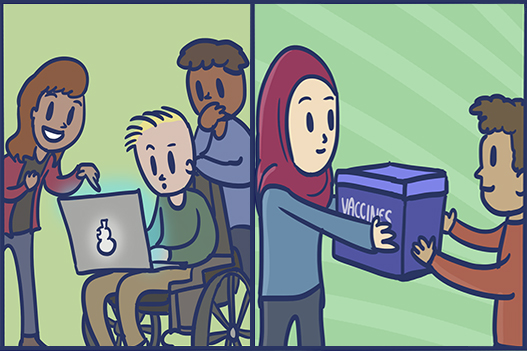 Connect your curriculum to global citizenship.
Free Science, Social Studies and Health lessons to inspire digital-age students. Developed by teachers, for teachers!
Activity Feed
Activity Feed
Vaccines
The Grade 5 Bulldogs earned 1 vaccine(s) when they completed a quiz.

1 hour 14 min ago

The Grade 5 Bulldogs earned 1 vaccine(s) when they completed a quiz.

1 hour 29 min ago

The Grade 5 Bulldogs earned 1 vaccine(s) when they completed a quiz.

1 hour 32 min ago

Div 7 earned 1 vaccine(s) when they completed a quiz.

3 hours 46 min ago

Titan-8 earned 2 vaccine(s) when they completed a quiz.

3 hours 51 min ago