Top 5 Teams
Team
School
Questions Answered
Vaccines
Gaspard's Go-Getters
Senator Reid Elementary
Surrey, BC
10,954
864
Patey's Panthers
Senator Reid Elementary
Surrey, BC
12,077
834
Filiatrault's foxes
Senator Reid Elementary
Surrey, BC
16,127
827
The Vaccinators
North Saanich Middle School
North Saanich, BC
12,408
785
Korver Krushers
Pacific Academy
Surrey, BC
9,425
561
Free classroom resource for teachers, and a chance for students to make a real difference through UNICEF Canada!
Curated lessons with interactive quizzes that mirror your province's science, health and social studies curriculum – all for free. For every quiz that students complete, we'll donate a vaccine to someone in need! Here's how it works.


282,963 questions answered and 15,532 vaccines earned in support of UNICEF this school year.
446,305
questions have been answered and
24,169
vaccines have been earned for children in support of UNICEF since March 2018.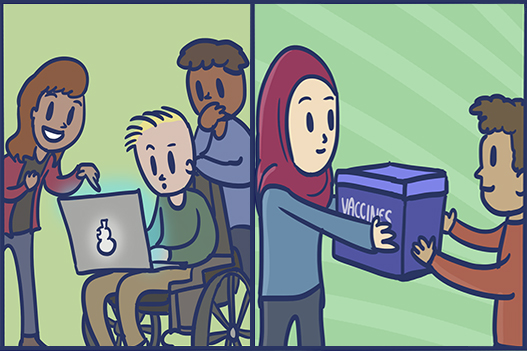 Act Locally. Immunize Globally.
Kids Boost Immunity makes learning fun by turning individual knowledge about immunization into vaccines for children through UNICEF.
Activity Feed
Activity Feed
Vaccines
Science 8 B earned 1 vaccine(s) when they completed a quiz.

1 hour 50 min ago

Ms Yam Science 8 2018 earned 1 vaccine(s) when they completed a quiz.

2 hours 32 min ago

Ms Yam Science 8 2018 earned 1 vaccine(s) when they completed a quiz.

2 hours 38 min ago

Ms Yam Science 8 2018 earned 1 vaccine(s) when they completed a quiz.

2 hours 40 min ago

Science 8 Blk H Paloposki earned 3 vaccine(s) when they completed a quiz.

2 hours 51 min ago