Kids Boost Immunity and UNICEF encourage Canadian students to 'Act Local to Vaccinate Global'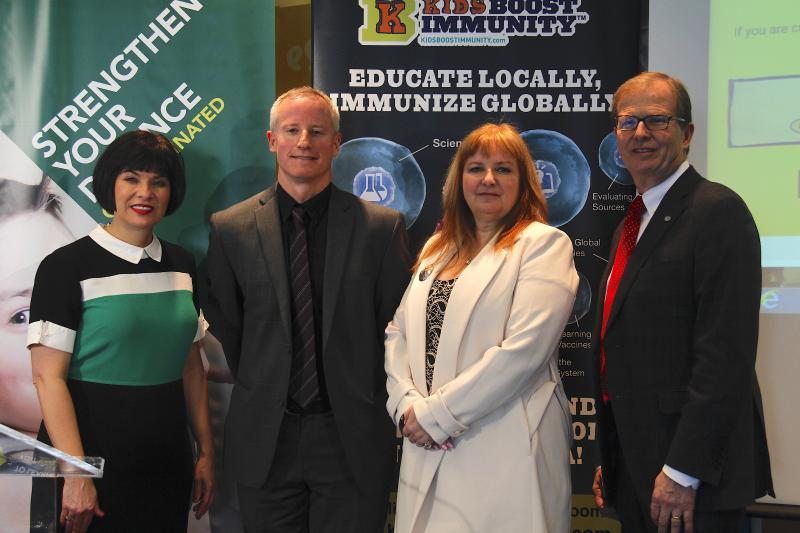 Kids Boost Immunity and UNICEF encourage Canadian students to 'Act Local to Vaccinate Global'  
New website pairs classroom learning about immunization with the chance to earn vaccines for children in support of UNICEF Canada
April 23, 2018
For Immediate Release
Toronto - Federal Minister of Health, The Honourable Ginette Petitpas Taylor kicked off National Immunization Awareness Week today by announcing a new Canadian health platform designed to raise literacy about immunization in schools. Kids Boost Immunity (KBI) empowers students to think about immunization in a global context by combining learning with the opportunity to donate vaccines for children in another part of the world.
Kids Boost Immunity is designed to align with provincial curriculums in science and social studies around various topics related to immunization and global health. The website provides dozens of classroom activities and teacher resources, each paired with an online quiz that students can take on their laptop, tablet, or phone. This two-pronged approach enables teachers to tailor the classroom experience and supplement it with a fun and interactive exercise that helps others. The more students learn on the site, the more vaccines get donated to UNICEF Canada for children around the world. It's that simple.
"Kids Boost Immunity (KBI) provides a wonderful example to children that for immunization to work anywhere, it has to be present everywhere," says Shannon Turner, Executive Director of the Public Health Association of BC. "Diseases don't respect boundaries, so KBI is tackling this unique public health challenge head on by rewarding individual knowledge with a practical outcome that can lead to healthier lives for children around the world. The simple idea of 'kids helping kids' has universal appeal because it empowers students to act local and global at the same time."  
Developed and piloted first in British Columbia, KBI received federal funding from the Public Health Agency of Canada to expand to schools across Canada starting in the 2018/19 school year.  By leveraging digital technology to connect local learning directly to global giving, KBI represents a fresh new approach to raising literacy about vaccination and with it, the important role that immunization plays in keeping communities healthy.   
More about Immunization in Canada
Although immunization is widely heralded as a miracle of modern medicine, the spread of misinformation online has resulted in some parents choosing to skip certain vaccines or avoid immunizations altogether. This led to Kids Boost Immunity being developed as part of a larger effort to find new ways to counter misinformation on the internet. Along with its partner, ImmunizeBC, KBI builds on lessons learned from previous approaches to immunization education by working to raise literacy about vaccination in schools.
Kids Boost Immunity (KBI) is a Canadian vaccine education and advocacy platform made possible through a partnership between the Public Health Association of British Columbia, the BC Ministry of Health and the Public Health Agency of Canada. KBI is managed with assistance from the BC Centre for Disease Control.  
Quotes:
"[The students] are so excited…they have just jumped in head first. I even see them in the halls on their lunch break doing the challenge on their phones.  And they're not doing it because they get some big prize at the end if they win…they're doing it purely for the idea of helping others. It's just amazing."
Grade 8 teacher – Vancouver Island
"Vaccines are one of the most cost-effective tools for public health, and are protecting more children than ever before. But, millions of the most vulnerable children continue to miss out on getting the vital protection they need to survive. Almost one third of deaths among children under five are preventable by vaccine. UNICEF and its partners like Kids Boost Immunity are working to reach them. Together, with Canadians and the Government of Canada, we can help provide health for every child."
David Morley, UNICEF Canada President and CEO
"We know that vaccination saves lives. And, when more people are vaccinated, the risk of infection is lower for everyone. Our government is proud to support the implementation of Kids Boost Immunity, to help teach Canadian children about the importance of immunization, while at the same time supporting children across the globe to receive needed vaccinations."
Federal Minister of Health, The Honourable Ginette Petitpas Taylor
To learn more about immunization in BC visit www.kidsboostimmunity.com or www.immunizeBC.ca
-30-
Media Contact:
UNICEF: Stefanie Carmichael: 647-500-4230
PHABC: Ron White: 250.595.8422