Free Science, Social Studies and Health lessons developed by teachers to inspire digital-age students in support of UNICEF Canada!
Curated lessons with interactive quizzes that mirror your province's science, health and social studies curriculum – all for free. For every quiz that students complete, we'll donate a vaccine to someone in need! Here's how it works.

All-time Leading Schools
School
Questions Answered
Vaccines
Students
Senator Reid Elementary
Surrey, BC
73,319
4,529
203
St. Thomas More Collegiate
Burnaby, BC
34,950
2,356
180
Walnut Grove Secondary
Langley, BC
25,635
1,587
221
Southgate Middle School
Campbell River, BC
24,450
1,423
153
North Saanich Middle School
North Saanich, BC
22,019
1,351
84

223,248 questions answered and 14,007 vaccines earned in support of UNICEF this school year.
1,102,116
questions have been answered and
64,203
vaccines have been earned for children in support of UNICEF since March 2018.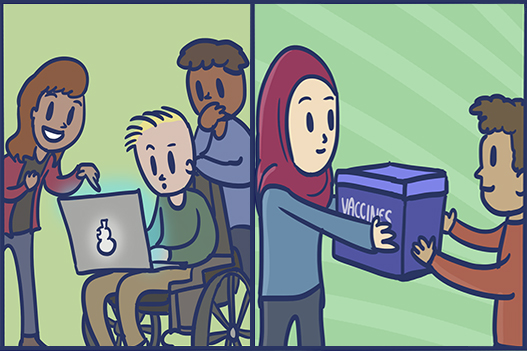 Connect your curriculum to global citizenship.
Free Science, Social Studies and Health lessons to inspire digital-age students. Developed by teachers, for teachers!
Activity Feed
Activity Feed
Vaccines
Div. 13 earned 2 vaccine(s) when they completed a quiz.

2 min 12 sec ago

Wildcats earned 1 vaccine(s) when they completed a quiz.

3 min 20 sec ago

Patey's Penguins earned 1 vaccine(s) when they completed a quiz.

4 min 6 sec ago

Patey's Penguins earned 1 vaccine(s) when they completed a quiz.

8 min ago

Patey's Penguins earned 1 vaccine(s) when they completed a quiz.

9 min 41 sec ago