Free curriculum-linked lessons developed by teachers, for teachers!
Grades 4 to 12, matches provincial curriculum outcomes
Designed using teaching practices that build critical inquiry
200+ lessons covering a broad range of subjects
Audio, videos and interactive games for diverse learners
Free teacher developed unit plans
For every quiz that students complete, we'll donate a vaccine to someone in need! Here's how it works.

All-time Leading Schools
School
Questions Answered
Vaccines
Students
Landmark Collegiate
Landmark, MB
55
1
1
Edmonds Community Elementary
Burnaby, BC
15
1
1
Clarence Fulton Secondary
Vernon, BC
18
1
1
Homeschool New Brunswick
Fredericton, NB
845
94
1
Homeschool Nunavut
Iqaluit, NU
61
4
1

633,086 questions answered and 57,594 vaccines earned worldwide in support of UNICEF this school year.
4,228,628
questions have been answered and
329,478
vaccines have been earned worldwide for children in support of UNICEF since March 2018.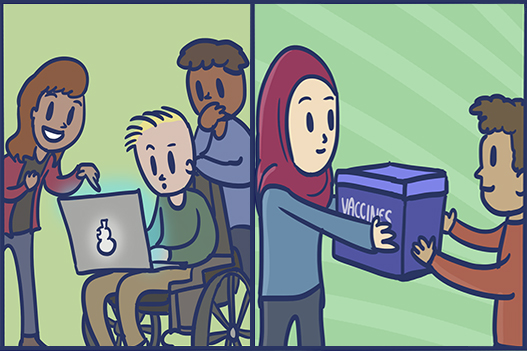 Connect your curriculum to global citizenship.
Free Science, Social Studies and Health lessons to inspire digital-age students. Developed by teachers, for teachers!
Activity Feed
Activity Feed
Vaccines
2022 - 2023 Grade 5 BCA Bobcats earned 1 vaccine(s) when they completed a quiz.

21 hours 24 min ago

Les Quatrièmes earned 1 vaccine(s) when they fin du quiz.

21 hours 37 min ago

2022 - 2023 Grade 5 BCA Bobcats earned 1 vaccine(s) when they completed a quiz.

21 hours 53 min ago

2022 - 2023 Grade 5 BCA Bobcats earned 1 vaccine(s) when they completed a quiz.

22 hours 7 min ago

2022 - 2023 Grade 5 BCA Bobcats earned 1 vaccine(s) when they completed a quiz.

22 hours 14 min ago