Free curriculum-linked lessons developed by teachers, for teachers!
Grades 4 to 12, matches provincial curriculum outcomes
Designed using teaching practices that build critical inquiry
200+ lessons covering a broad range of subjects
Audio, videos and interactive games for diverse learners
Free teacher developed unit plans
For every quiz that students complete, we'll donate a vaccine to someone in need! Here's how it works.

All-time Leading Schools
School
Questions Answered
Vaccines
Students
École St. Mary High School
PRINCE ALBERT, SK
10
1
1
Nanaimo District Secondary
Nanaimo, BC
12
115
12
William Mercer Academy
Dover, NL
13
2
1
Edmonds Community Elementary
Burnaby, BC
15
1
1
St Bernard Catholic School
Toronto, ON
16
1
1

369,020 questions answered and 32,492 vaccines earned worldwide in support of UNICEF this school year.
3,964,562
questions have been answered and
304,376
vaccines have been earned worldwide for children in support of UNICEF since March 2018.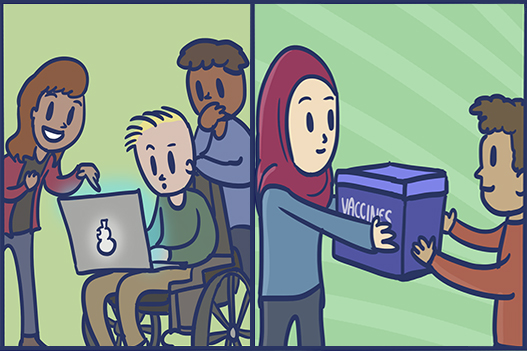 Connect your curriculum to global citizenship.
Free Science, Social Studies and Health lessons to inspire digital-age students. Developed by teachers, for teachers!
Activity Feed
Activity Feed
Vaccines
Kreativekoalas earned 1 vaccine(s) when they fin du quiz.

13 min 12 sec ago

KSS Science Citizens 2023 earned 1 vaccine(s) when they completed a quiz.

14 min 36 sec ago

Kreativekoalas earned 1 vaccine(s) when they fin du quiz.

16 min 15 sec ago

KSS Science Citizens 2023 earned 1 vaccine(s) when they completed a quiz.

18 min 57 sec ago

KSS Science Citizens 2023 earned 1 vaccine(s) when they completed a quiz.

26 min 7 sec ago