Free Science, Social Studies and Health lessons developed by teachers to inspire digital-age students in support of UNICEF Canada!
New COVID-19 lessons added, including what students should know, how to stay healthy, and how to avoid misinformation.
Curated lessons with interactive quizzes that mirror your province's science, health and social studies curriculum – all for free. For every quiz that students complete, we'll donate a vaccine to someone in need! Here's how it works.

All-time Leading Schools
School
Questions Answered
Vaccines
Students
City Central Learning Centre
Surrey, BC
19
1
1
Mount Eliza Secondary College
Mount Eliza, VIC
29
1
1
Fraser Park Secondary Program (Secure)
Burnaby, BC
32
2
1
Headway School Society of Alberta
Edmonton, AB
45
3
2
Skaha Lake Middle School
Penticton, BC
54
3
1

529,715 questions answered and 37,458 vaccines earned in support of UNICEF this school year.
1,408,583
questions have been answered and
87,654
vaccines have been earned for children in support of UNICEF since March 2018.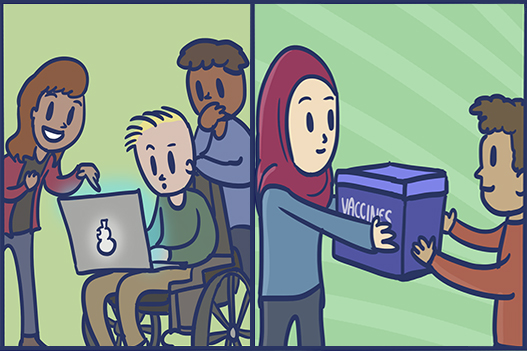 Connect your curriculum to global citizenship.
Free Science, Social Studies and Health lessons to inspire digital-age students. Developed by teachers, for teachers!
Activity Feed
Activity Feed
Vaccines
covid306 earned 1 vaccine(s) when they completed a quiz.

4 hours 34 min ago

Gaspard's Golden Gods earned 1 vaccine(s) when they completed a quiz.

8 hours 29 min ago

Vaccinated Dragons 7 earned 1 vaccine(s) when they completed a quiz.

9 hours 32 min ago

covid306 earned 1 vaccine(s) when they completed a quiz.

9 hours 43 min ago

covid306 earned 2 vaccine(s) when they completed a quiz.

9 hours 48 min ago